The PPF interest for the quarter ending September 30, 2022, is 7.1%.
What is PPF?
PPF stands for Public Provident Fund, a Government of India initiative started in 1968. A long-term investment option, it offers a fixed rate of return, and the interest earned is exempt from tax. PPF is one of India's most popular long-term investment options due to its safety, stability and high returns. PPF is an excellent option for people looking for a safe and stable investment with good returns. PPF account holders can choose to invest between Rs. 500 and Rs. 1.5 lakhs per year which can be paid as a lump sum or in 12 monthly instalments. PPF accounts mature at the end of 15 years. The maturity date can be extended to 5 additional years if you ask for it in writing within a year of the account's due date.
How much has the PPF interest changed over the last few years?
The PPF interest rate has decreased over the last couple of years. Earlier, the PPF interest rate was set once a year or whenever needed. But since April 2017, the rates have been revised by the Government of India every three months. The below table lists the PPF interest rate for the previous years and quarters.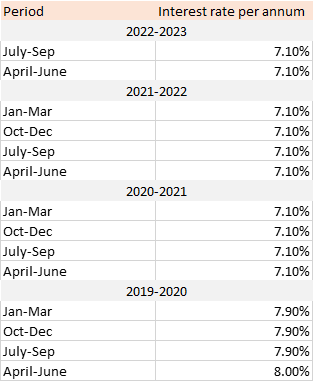 How is PPF interest calculated?
The interest is calculated based on the account's lowest balance between the fifth and last day of the month. At the end of each year, interest will be added to the account. If you want the most interest, you should put money in a PPF account before April 5. Even if you only invest money once a month, it's best to put it before the fifth of every month, when interest is calculated on the balance.
How is tax calculated on PPF interest ? 
PPF enjoys EEE or Exempt, Exempt, Exempt status. This means that the investments, returns and maturity proceeds are all tax exempt. PPF also falls under Section 80C of the Income Tax Act, 1961. This section allows for tax deductions up to Rs 1.5 lakhs per annum. PPF account holders can avail this benefit irrespective of whether they are salaried, self-employed or professionals.
Can you take a loan against your PPF balance?
You can get a loan against your PPF balance starting in the third year after you open your PPF account and up until the sixth year. So, if the account was opened in 2019-2020, the loan can be availed starting in 2021-2022. It will be a short-term loan that must be paid back in 36 months. The interest rate on the loan is as low as 1% per year if the money is paid back before 36 months are up. But if the money is paid back after 36 months, interest is charged at 6% per year from the disbursement date. The loan amount can't be more than 25% of how much was in the PPF account at the end of the second year or the year before the loan was applied.
Is PPF a good investment?
Whether or not PPF is a good investment depends on various factors, including your financial goals and risk tolerance. PPF has a 15-year lock-in period and is a long-term investment, so it's not a good option if you're looking for short-term growth. However, PPF offers many advantages that make it an attractive option for long-term investors:
The interest rate on PPF is fixed, so you know exactly how much you'll earn on your investment.
PPF is backed by the government, so it's a very safe investment option.
The interest earned on PPF is tax-free, which can help to boost your overall returns.
For these reasons, PPF can be a good option for long-term investors looking for a safe and relatively low-risk investment.
Hope you enjoyed this article. For more articles please visit my blog: https://rahulsblog.com