National Savings Certificate (NSC) is a small savings scheme introduced by the Indian government to encourage people to save money for their future. NSCs are available at post offices and banks and offer a fixed interest rate for 5 years, set by the government every quarter but compounded annually. The latest NSC interest rate is 6.8% per year for the quarter ending September 30, 2022. NSCs are guaranteed by the government, and they are considered to be one of the safest investments in India.
How much has the NSC interest changed over the last few years?
The NSC interest rate has declined over the last couple of years. The NSC interest rate was 12% in 1990-91, while the latest rate is 6.8%. The Government of India revises the NSC interest rate every quarter. The below table lists the NSC interest rate for the previous years.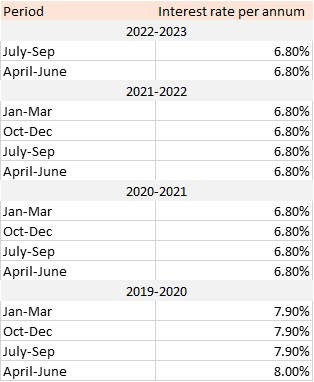 Is NSC premature withdrawal allowed?
NSC investments must be held for the entire tenure to earn the full interest. However, premature withdrawal is allowed under certain circumstances, such as the sudden demise of the certificate holder or if the court passes an order to withdraw the amount. If the NSC holder forfeits the certificate, premature withdrawal is also allowed.
How is NSC interest taxed?
People who buy NSCs often wonder if the interest they earn is taxed. Is the NSC interest taxable every year? Yes, the interest you earn on your NSC is taxed. The interest earned on an NSC can be added to the investor's taxable income each year and taxed according to the applicable slab. Alternatively, you can show the interest for tax purposes in the year of encashment (5th year). Every year, the interest earned on NSC for all years save the year of receipt is automatically deemed reinvested and added to the principal. And under section 80C of the Income Tax Act, you can deduct up to Rs 1.5 lakhs from your taxable income if you do this. So, the interest for the first four years would be reinvested and used as a tax deduction, but the interest for the fifth year would be given to the investor and is therefore taxable. You must show your NSC Interest in Income tax return under the head "Income from other sources."
Is NSC a good investment?
NSC or National Savings Certificate is a good investment for those who want guaranteed returns. The NSC is backed by the government and offers tax benefits. However, the return on NSC at present is much lower than other investments, including other government-backed investments like PPF. NSC does not beat inflation; therefore, it may not be a good investment option in the long run.
Hope you enjoyed this article. For more articles please visit my blog: https://rahulsblog.com