Forgot your UAN? Don't worry. It happens to the best of us. The good news is that there are a few easy ways to find it. In this blog, I will share four ways to find your UAN if you forgot it.
What is UAN?
UAN or Universal Account Number is an identifier allotted by EPFO or Employees Provident Fund Organisation to every EPF member. It is a 12-digit number which is unique and acts as an umbrella for all the PF (Provident Fund) accounts of the employee. UAN stays with the employee throughout his employment tenure with different companies. UAN doesn't change even if an individual changes his job, unlike the PF account number, which changes for every new job. UAN makes it easier for members to keep track of their multiple PF accounts and for the EPFO to manage them. UAN can be activated by the employer after the employee provides KYC(Know Your Customer) details like PAN, bank account number and Aadhaar. UAN can be accessed by the member after it is activated by the employer on the UMANG app or through the official website of EPFO. After logging in, members can view their PF passbook, check their PF balance and claim for PF withdrawal.
If you've forgotten your UAN, don't despair. With a little effort, you should be able to track it down in no time. Here's how.
Use your payslip or check with your HR
If you have a copy of your old payslip, your UAN should be listed there. If not, you can check your employer's records. They should have a record of your UAN on file.
Forgot your UAN – Give a missed call to 011-2290140
EPFO provides a Missed Call service that allows you to retrieve your UAN by simply giving a missed call to 011-2290140 from your registered mobile number. This facility is a convenient way to get your UAN and EPFO account information without logging in or remembering complex passwords. Your mobile number must first be activated with your UAN at the Unified Portal to avail of this facility, . In addition, any one of the following KYC details must be available against your UAN: Bank A/c Number, Aadhaar, or PAN. After two rings, the call will automatically get disconnected, and you will receive an SMS with your UAN along with the details of your last contribution and PF Balance. The EPFO does not charge for availing of this service.
Use the SMS service if you forgot your UAN
Send an SMS to 7738299899 from the mobile number you have registered with. This service is available in Bengali, Telugu, Tamil, Malayalam, Hindi, Punjabi, Gujarati, Marathi, Kannada, and English (the default language). Just type in "EPFOHO UAN" followed by the first three characters of your preferred language (if you want to get an SMS in a language other than English) For e.g. "HIN" for Hindi, "BEN" for Bengali, etc., and you will receive an SMS with all the relevant information. This facility is also helpful in knowing your PF balance and contributions without logging into the EPFO website.
Use the EPFO website
Here's what you need to do to get back your forgotten UAN number from the EPFO website ( https://www.epfindia.gov.in/site_en/index.php)
Step 1: Go to the EPFO website.
Step 2: Click on 'Services'> 'For Employees'
Step 3: Click on 'Member UAN/Online Service (OCS/OTCP)'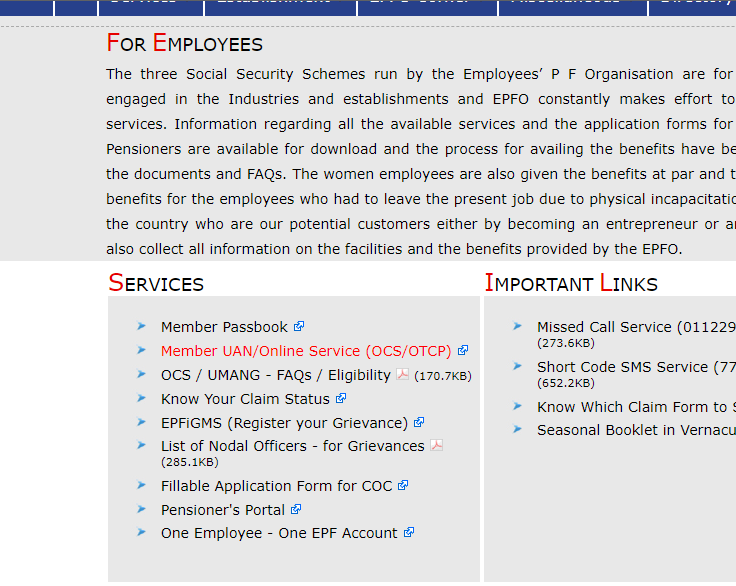 Step 4: Click on 'Know your UAN'
Step 5: Enter your registered mobile number and the displayed CAPTCHA. Click on 'Request OTP', and you will get a one-time password on your mobile number linked with your UAN.
Step 5: Validate the OTP
Your UAN will be sent via SMS to your registered mobile number.
Hope you found this article on what to do if you forgot your UAN valuable.
Hope you enjoyed this article. For more articles please visit my blog: https://rahulsblog.com